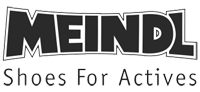 Meindl
In times gone by, there were several towns in Germany that were specialized in making shoes, with a total of hundreds of shoe factories in them. Meindl is one of the few remaining shoe producers continuing a heritage of making high quality shoes in Germany. Established in 1683 in Kirchanschöring, the family business has grown to a world leading hiking boot manufacturer employing more than 200 people. Though manufacturing processes have changed during the centuries, manufacturing shoes continues with respect to traditions and craftsmanship, yet similarly applying new innovations according to modern day requirements. One material remains the same decade after decade, century after century: carefully chosen top quality leather.
Like all quality manufacturers, Meindl constantly tests its products as well as new material and structure innovations. Meindl boots contain a blend of strong materials, precision made joints and excellent anatomic form. The end result is footwear that will serve you reliably in your outdoor excursions.
Meindl Gore-Tex hiking boots are very popular in all Nordic countries. Our terrain is rather wet and rocks and roots demand ankle support - and in these conditions Meindl boots are right at home.