Scandinavian Outdoor Customer Service
Customer Service
Delivery Terms
Payment Methods
Product Maintenance
Company Info & Legal Notes
Privacy policy
Our Promise
Product information and sales inquiries
Telephone service hours: working days from 9 a.m. to 5 p.m. (GMT+2/3)
Call rate 8.28 cents/call + 17.04 cents/min.
You're also always welcome to contact our friendly Customer Service!
Returns and Complaints
You have 100 days to return your item!
This returns policy only applies to unused items with the labels intact.
Please note! The return policy applies to the online store only, not physical shops.
If you want to exchange a delivered product to another size, colour or altogether a different product, return the product and make a new order for the product you wish.
The customer covers the cost of postage when returning items from outside of Finland. The customer may choose the form of delivery themselves (post, courier...).
Please read our return instructions on our Returns Form.

Post the parcel to the following address:
Returns & Exchanges
Scandinavian Outdoor Oy
Lukkosepänkatu 7
20320 Turku
Finland
In matters related to warranty, always email us first at
orders@scandinavianoutdoor.com
We'll see together how to proceed!
Where is my order?
It is an unfortunate fact that hiccups do sometimes happen somewhere along the logistic chain. If it feels like you've been waiting for your order for quite a while, please check your order confirmation first for the delivery times of each item. Items ordered from the manufacturer/importer take longer to arrive than stock items. During peak times (e.g., Christmas) our packaging lines work dawn to dusk, but sometimes backlogs are unavoidable.
It's wise not to leave things to the last minute: place your order well ahead of the trip of your lifetime. If you haven't received an order confirmation into your inbox, an error has occurred during payment, or there is a typo in your email address - please get in touch with our customer service team, and we'll sort it out for you.
Delivery Times
For products we have in stock, delivery time is usually between 5 to 14 days after shipping.
Orders normally have a dispatch time of 1-3 working days.
Other delivery times estimations, such as 5-10 or 10-14 days, indicate the product is not in stock and will have a longer delivery time.
The dispatch time is the number of working days it will take for Scandinavian Outdoor to post the item after receiving your cleared payment. The dispatch time does not include the transit time - i.e. the number of working days the postal service will take to deliver the item to you.
Working days are normal weekdays. Dispatch times don't include Saturdays, Sundays and major Finnish holidays. (Transit times don't include major holidays and Sundays, but may include Saturdays, depending on the delivery service provider.)
If due to unforeseen circumstances we are unable to keep this delivery promise, we will contact you by phone or email.
We reserve the right to cancel a transaction if the item you have ordered is not available.
Delivery Methods
We ship normally using GLS's and Posti's (Finnish National Post Service) delivery methods. Posti's partner couriers and/or carriers may vary in different countries. DHL Express is also available as a faster shipping alternative for extra payment.
Delivery Costs
We offer fixed rates on delivery costs:
Delivery costs for GLS delivery are 7,90€.
With GLS the shipping prices are not dependent on physical size of delivery.
Free shipping for orders over 150 € delivered with GLS.
Posti: Shipping to Non-EU/all other countries: 25 €
Please note we cannot deliver products longer than 105 cm outside the European Union. Inside the European union products as long as 2.5 m are ok. Also be aware that products containing batteries cannot be delivered to countries outside of the European Union because of restrictions regarding batteries in airfreight.
VAT, taxes and duties
This store is based in Finland, therefore within the EU e-commerce. When you are browsing the store, please select the country to where your order is to be delivered. When you select country of delivery, Finnish VAT will automatically apply to any country within the EU. As well, Finnish VAT will automatically be deducted for any non-EU country.
The VAT-correction of prices applies automatically to every price in the store once you've selected "delivery country."
For most products the Finnish VAT is 24%. Exceptions: for food products 14% and for books 10%.
On all international orders, the recipient is responsible for payment of applicable duties, taxes, and other fees. Please contact your local Customs office for information on duties and taxes.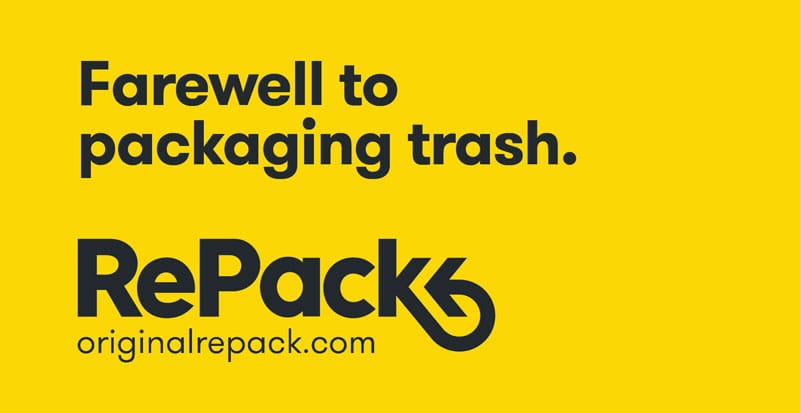 REPACK - ECOLOGICAL PACKAGING CHOICE
Deposit for the merchant, voucher for you!
We offer you RePack for free on any order over 149€!
Instead of a plain cardboard box or a paper bag, you can choose your order to be delivered in a RePack package. When ordering, choosing the Repack option adds an extra 3.50 € to your order (on orders below 149 euros) - when you send the empty RePack package back in the mail, you'll get a voucher for Scandinavian Outdoor or any Repack-using online store of your choosing!
How does it work?
Make an order in our webstore and choose RePack delivery
If your order has a value exceeding 149€, selecting RePack is free
If the goods you ordered turn out to be too large even for the largest RePack, and you've paid a deposit for RePack, we will instantly refund this directly back to you
Upon arrival, open the parcel and detach its address slip
Fold the RePack according to its instructions
Drop the RePack in a postal box
You'll receive an email with a link where you'll be able to choose which store you want your reward discount from - in some stores you get a certain percentage and in some stores a certain monetary value discount
The RePack will continue its sustainable career
The RePack package continues its ecological career!
---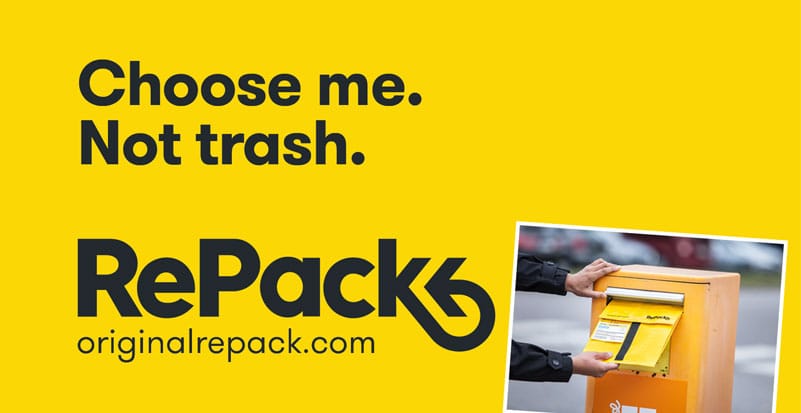 Payment Methods

You can pay with Visa or MasterCard via our payment provider Maksuturva. Paypal payments are also possible.
In Denmark, Sweden, Norway, Germany and Finland you can choose to pay with Klarna.
Refunds via Maksuturva are delayed about 3-7 days, depending on the transaction-times of your bank.
Maksuturva payment service
Maksuturva payment service is available through banks and credit institutions. You do not need to register or pay additional fees to use the service. The seller receives an immediate notification of payment, and you will receive a confirmation message in your inbox. The message contains a link to the Online buyers' Services page, where you can manage returns, complaints or give feedback, etc. around the clock.
Maksuturva Group Oy is a payment institution authorized by the Financial Supervisory Authority. All communications and transactions are SSL encrypted, which means that third parties are unable to access your details. Your payment is credited to the seller only when you have received your order and had a chance to inspect it. You will receive the timescales for inspecting each order by email. Read more about Maksuturva..
Banks' online payment buttons
You will be able to use the online payment button of any Finnish bank.
Card payments (Visa, Visa Electron, MasterCard and Business Eurocard).
Card payments involve a transaction between the customer and Maksuturva Group Oy. The online store's role is only to market products and services, to deliver the products or services, and to process possible complaints. Maksuturva Group Oy will show as the payee in your account statement, and will also process any complaints regarding payments.
Contact information: Maksuturva Group Oy
Business ID: 2121703-0
Ruoholahdenkatu 23
00180 HELSINKI
Phone: (09) 4241 7040, weekdays 9 am to 5 pm
E-mail: asiakaspalvelu(a)maksuturva.fi
www.maksuturva.fi/en
Klarna Invoice and Account
Klarna Invoice
With Klarna Invoice you have 14 days to pay. This time gives you a chance to check your item in your own time. If you decide to return the item, by law the customer must notify the seller of a return or exchange within 14 days of receiving the item. More detailed information about Customer Returns.
What information does Klarna need?
Klarna checks your social security number and your phone number to verify your data and confirms your order within a few seconds. If Klarna is unable to confirm your order, we recommend you select another payment method.
How to pay the Klarna Invoice?
You will receive an invoice to your inbox within a couple of weeks of receiving your parcel. Check the invoice for the due date; normally you have 14 days to pay.
Klarna Invoice interest, default interest and other charges
A reminder fee of €5.00 and 11.50 % default interest will be added to late payments.
How to pay the Klarna Account?
Account invoices are always posted towards the end of the month and payment is due at the beginning of the following month. Customers' first account invoice will arrive at the end of the month following the month of purchase (if you place an order in January, you will receive the invoice in February).

PayPal stores and protects your credit card details, so you don't need to enter the details each time you make a purchase.
You don't need to have money in your PayPal account to make a purchase, as you can link a payment card to your account.
Payments are made in the same way whether you have linked a card to your PayPal account or transferred money to it.
The user confirms each payment using an email address and password.
Whether you pay by a card linked to your PayPal account or use your PayPal balance, paying by PayPal is free.
When paying with PayPal, your delivery address must be the same as the address you have registered with PayPal.
Maintenance and Washing Instructions
Sleeping bags and mats
Sleeping bags should be stored at home loosely out of their stuff sack. This keeps the sleeping bag fluffy and helps it return quickly to its normal thickness when camping. Down sleeping bags, in particular, tend to come with separate, large storage sacks for storing the sleeping bag at home.
The more you use your sleeping bag, the better idea it is to use a sleeping bag liner. Liners reduce the need to wash the sleeping bag and provide additional warmth.
When traveling, you should try to air your sleeping bag every morning. This will help keep its insulation in the best possible nick.
Self-inflating sleeping mats should be stored at home with the valve open, for example, under the bed. Mats that have been stored flat fill up much quicker when traveling than mats that have been stored in a carry bag. Storing other types of mats does not require any special tricks.
Washing a sleeping bag
Sleeping bags get dirty over time, and this gradually reduces their insulating capacity. Follow the instructions below when washing your sleeping bag at home:
Only wash sleeping bags your washing machine is capable of washing: if the sleeping bag's dry weight is more than 1/3 of the machine's capacity, washing it in the machine is not recommended
Follow the manufacturer's instructions if they differ from these instructions
Wash the sleeping bag with a suitable washing agent: ordinary laundry detergent is fine for fiber bags; for down sleeping bags use down detergent
Wash sleeping bags with the zipper closed
Do not use fabric softeners, bleach, or pre-wash detergents
Do not spin
Wash the sleeping bag in 30°C
Use the delicates wash programme
Run the washing machine's rinse cycle two or three times at the end of the wash
Dry very thoroughly: very long, low-temperature tumble drying is a good option
You will probably have to run the tumble dryer programme several times before the sleeping bag is completely dry
If you do not have access to a tumble dryer, spread the sleeping bag out to air on a washing line/drying rack and ensure good ventilation - using a comfort fan is not excessive. Turn and handle the sleeping bag frequently when it's drying to avoid wet "clumps" in the insulation.
Washing technical clothing is easy!
Membrane and softshell clothing
First things first: membrane clothing is meant to be washed! High-quality membrane garments will stay in good condition if washed using appropriate washing agents and properly looked after.
Membrane garments are typically made up of three parts: outer fabric, membrane, and liner. The membrane keeps the weather out, while the outer fabric and liner protect the membrane and make the garment durable. The outer fabrics are impregnated - that is why you see water form beautiful droplets on a new garment. There are millions of tiny pores in the membrane; washing helps keep the pores open, thus allowing the fabric to breathe.
Most membrane garments are waterproof. However, some are only windproof. The washing instructions are suitable for both membrane types. Gore-Tex, DrymaxX, and HyVent, for example, are waterproof, whereas Windstopper is windproof.
Washing tips for membrane and softshell clothing
Follow the washing temperature instructions
Membrane and softshell clothing should ideally be washed with a detergent designed specifically for them, however only ever with liquid detergent
Wash the garments with the zippers closed and the right side out
Washing agent packages contain dosage instructions - follow them
Do not use a fabric softener - it is a good idea to remove any fabric softener left in the detergent drawer
Do not use bleach - it is a good idea to remove any bleach left in the detergent drawer
Do not spin membrane clothes
After a few washes, treat the garments with membrane or softshell impregnation agent
Some membrane garments can high-quality in a tumble dryer or a drying cabinet. The right amount of warmth also activates the impregnation agent in the best possible way. Check each garment separately whether it can be dried in a tumble dryer
Cotton blends
Synthetic fibers are added to cotton to increase its durability and strength among other things. Cotton blend trousers breathe and even out heat (G-1000, Überkühl...). These fabrics may include a waterproof membrane too, so please check the washing instructions carefully.
Washing: Close zippers, buckles, and adhesive fastenings before placing the garment in the washing machine. Always check the correct washing temperature for each garment.
Impregnation: Cotton absorbs impregnation agents. We recommend, for example, Greenland Wax as impregnation agent for this type of items. Impregnate the fabric while it is slightly damp and finish it off using an iron, a blow dryer, or, the waste heat of your sauna. This helps the cotton fibers absorb the wax very well, and the result will be evener.
Synthetic fibre blends
Synthetic fiber blends (Climatic, OmniDry, Insect Repellent...) are durable, quick drying and light – these are their best characteristics. Trousers made of this type of material often include UV protection, and some are also an insect repellent.
Washing: Close zippers, buckles, and adhesive fastenings before placing the garment in the washing machine. Always check the correct washing temperature for each garment.
Impregnation: Synthetic fiber fabrics do not absorb impregnation agents, so impregnating them is challenging, perhaps even pointless. We recommend heat treatment by ironing. Check the item label for the correct temperature.
Base layers and mid layers
Synthetic fiber base layers and mid layers benefit from frequent washing. Follow the washing instructions of each garment. Avoid using bleach and fabric softeners.
Wool base layers require much less washing than synthetic fiber layers. These days nearly all wool base layers are made of merino wool, which is so fine-grained that it does not cause skin itching even to users who experience problems with ordinary wool clothing. The lanolin in wool clothing has many useful characteristics: usually just airing the garment before next use is enough and thanks to lanolin, wool clothes do an excellent job even when damp. Woollen base layer wearers will have a more pleasant break during their trip: where synthetic fiber base layers feel cold as soon as the body slows down its heat production, wool will keep your temperature more constant. All our wool base layers are machine washable and made of wool from mulesing-free farms. There are a few essential things to consider when washing wool garments:
Read the washing instructions and follow them
Use your washing machine's wool or delicates wash programme
Always use a wool detergent
Wool garments should be allowed to dry flat - this stops the garment stretching
Wool detergent is ideal for preserving the wool's characteristics!
Down jackets
You can wash your down jacket yourself unless the product label specifically says otherwise. If unsure, letting a laundry handle it is a better option.
Read and follow the garment's washing instructions
Use your washing machine's down or delicates wash programme
Only use down detergent
Dry very thoroughly: several low heat cycles in the tumble dryer is a good option. If you dry the jacket in room temperature, a comfort fan or two will speed up the process significantly. Squeeze the jacket frequently to push moisture from the down towards the surface of the fabric so the moisture can evaporate.
Footwear
Extend the life of your footwear by maintaining and looking after them correctly! Simply applying impregnation to the outer layers is not enough.
Avoid getting abrasions and blisters by wearing clean shoes and seamless socks in clean feet. The best combination is thin liner socks with high-quality hiking socks over them.
Always store your shoes in a cool and dry place, away from direct sunshine. Do not store shoes on top of underfloor heating! Excess heat can prematurely erode the polyurethane used in mid-soles.
Clean your shoes after each use:
Remove stones, snow, and slush from the top, bottom and inside of the shoe using a soft brush
Clean also the inside of the shoe
Let the insole dry separately
Air the shoes in a dry and airy location
Washing the footwear if necessary:
Wash footwear in lukewarm water using a mild detergent and a soft brush
Let dry at room temperature in plenty of air (NOTE! Not in sunlight, on a radiator, or on top of underfloor heating). You can speed up the drying process with an ordinary comfort fan if you so wish
You can fill the shoes with warm water and wash up liquid. Let them soak, brush gently and rinse thoroughly. Dry at room temperature, preferably in front of a comfort fan
Leather footwear
The leather is a natural product which is always made of the hide of an animal. Leather suffers from contact with dirt, salt, light, and dryness. Leather needs natural oils or wax to stay supple. Small scratches and abrasions are simply memories from your journeys and adventures. The leather is most typically used in footwear which from time to time comes into contact with peat or sea water. Especially if this happens, you should rinse the shoes with fresh water immediately after the trip. Peat and seawater are the worst for destroying the stitching that keeps your shoes in one piece.
Use a damp, lint-free cloth to wipe your leather shoes from dirt and mud. If necessary, use a soft brush.
Leather needs nutrients. Impregnate leather with wax or spray for that purpose.
Nubuck leather footwear
Nubuck is a natural product; however, it is more porous than full-grain leather. Nubuck leather is top-grain leather which has been buffed. Nubuck leather requires more zealous spray impregnation than unbuffed full-grain leather. Wax darkens nubuck leather.
Rubber boots
Rubber conditioner cares for your rubber boots. It restores rubber's original shine and preserves its elasticity. Wash your boots from time to time with lukewarm, soapy water and a sponge. Avoid using coarse brushes and solvent-based detergents. Do not use solvents. Dry the boots preferably at room temperature, never in a drying cabinet or boiler room.
Tents
Tent fabric
Mould is the tent's worst enemy. The best way to protect your tent from the mold is to let it dry thoroughly after each trip. Hang both the inner and outer tent as loosely as possible in room temperature. Check to see if moisture forms puddles in certain parts: these parts should regularly be dried. A tent will typically dry in a couple of days, but a drying time of a week is not excessive either - you don't want your holiday home going moldy, do you!
Poles
Poles will normally stay clean even on the roughest trips. If storm winds or an accident (e.g., falling over the tent) cause the poles to bend or crack, assess the situation: a bent pole will normally work just fine. A cracked pole, however, must be replaced. Ask our customer service team to help you replace your broken pole.
Pegs
Pegs should be cleaned from sand and mud after each trip - a dish brush is a good tool for this. While doing that, check for any bent pegs. If the soil is hard, you can even hit the pegs with a stone, but stepping on one will almost invariably bend it into a curve. A metal peg can usually be bent back into its original shape - you should do this before embarking on your next trip.
Scandinavian Outdoor
Scandinavian Outdoor is a Finnish retail and online store chain. Scandinavian Outdoor continues the tradition of Partiovaruste - the Finnish company was founded in 1970. We changed our name to Scandinavian Outdoor Oy in May 2014. The company is entirely Finnish-owned.
Our journey started over 40 years ago with the sale of scout badges. Today our team serves our customers with a comprehensive selection of outdoor clothing and equipment, not forgetting scouting items! In addition to our brick & mortar shops, we own the Scandinavian Outdoor online store.
Scandinavian Outdoor Oy
Lukkosepänkatu 7
20320, Turku.
Finland
Tel. +358 10 3970 591
Business ID: 2066059-1
VAT number: FI20660591
Scandinavian Outdoor – History
"From a boy scouts' shell company into a leading expert in the domestic markets"

In 1967, a scout kiosk opened in Turku, Finland
Local scouts opened the kiosk, which sold scout badges and outfits. This is the beginning of our story, although the company was not founded in 1967.

An open company was founded by local boy and girl scout districts, which was named Partiovaruste. The goal of the company was to "sell equipment for scouting and activities closely related." At the time, sales were performed by the staff of the district office at the premises of the Martinkatu office in Turku.

1977 The first shop – The beginning of the Outdoor professionals
The sales of scouting equipment continued to be strong, and the first full-time salespeople were hired to the store in Turku. In addition to scouting equipment, the staff's camping equipment was for sale. Even then, knowledgeable salespersons were an essential part of our developing story.
1985 The first camping specialty store was opened

The former store moved into larger premises.
The selection of camping equipment and clothing expanded considerably.
The selection included several top brands of outdoor activity, such as Fjällräven, which is one of our cooperation partners even today!
The activities in this store continued until 2016 when the store moved to a new address.
1992–1995 Establishment of a ski school and expanding it outside the boundaries of the home city

1992 The first store outside the home city is opened in the neighboring municipality Salo.
1994 The ski school is founded at the local ski resort. The ski school taught downhill skiing until the year 2017!
1999 The first online store

The first online store of Partiovaruste (present Scandinavian Outdoor) opened at www.ulkoilukauppa.com.
2003 The first sizable store

An outdoor and camping specialist store of over 500 square meters opened in Raisio.
At the same year, sales exceeded 3 million euros.
2007 The beginning of the conquest of the international outdoor section
A new online store www.scandinavianoutdoor.com was opened, which targeted the international market.
The strengths of the company were still high quality and a wide selection of products, knowledgeable service, and a reasonable price level.
2009–2013 Acquisitions and mergers: a driving force for growth



During a four-year period, five new physical stores opened in Finland.
The online store thrives in Finland and internationally.
2014 The company introduces its current name – Scandinavian Outdoor

Partiovaruste Oy changes its name to Scandinavian Outdoor Oy.
In 2014, approx. 1.2 million unique visitors visited the online store, and packages were delivered to more than 50 countries.
2014–2016 Strong growth in the online store

two new stores opened in the Stockmann department stores of Turku and Tampere.
In 2016, approx. 4.5 million unique visitors visited the online store.
2017 Scandinavian Outdoor – Growth company and outdoor expert

2017 An investor named Ville Rantala from Turku buys 80% of the stocks of Scandinavian Outdoor Oy from Lounais-Suomen Partiolaissäätiö Foundation, and the Foundation continues its work in the company with its 20% share.
January 2018 Ville Rantala buys the rest of the company's stockhold and owns now 100% of company.
The scouts are still involved in the company and they are a part of the company's history and future.
Scandinavian Outdoor is a 100% Finnish company.
Scandinavian Outdoor has seven brick-and-mortar stores in Finland. The online store www.scandinavianoutdoor.com serves the outdoor people of the whole world with its extensive expertise. Also, our beloved neighbors of Sweden are served by the Swedish language online store www.scandinavianoutdoor.se. and we also serve our Russian customers thru our Russian language online store www.scandinavianoutdoor.ru
Our turnover for the last fiscal year was 18 million euros, and the growth has remained steady in 2017-2018.
The future goal of Scandinavian Outdoor is to expand its business and continue its active role as an expert in Finnish outdoor life, by providing high quality outdoor and camping clothing and equipment through first class customer service to the outdoor people of Finland and the whole world!
For us, life is #LifeOutdoors.
Legal Notes
Terms of Use
Scandinavian Outdoor provides the right to browse and download material from this website only for personal and non-commercial use. The material on this website cannot be edited or copied for public use in any way, or displayed, presented or distributed in public, or used for other public or commercial purposes without the prior written consent of Scandinavian Outdoor.
Copyright
We, together with our licensors, own and control all the copyright and other intellectual property rights in our website and the material on our website; and all the copyright and other intellectual property rights in our website and the material on our website are reserved.
Safety
We do not share information about you with any third party for their independent use without your express permission. However, we may disclose your personal information without your permission when we are legally required to do by, for example, a court order, for prevention of fraud or other crime to establish, exercise and defend out legal rights.
We do not sell, rent or loan information about you to anyone.
You have a right to access the personal data that is held about you.
If you wish to request a copy of any information that is held about you or ask us to make any changes necessary to ensure that it is accurate and kept up-to-date, please write to sales@scandinavianoutdoor.com
Your data is safe us! Enjoy safe online shopping with our secured (https) connections. No credit card data is relayed to other parties.
Cookies
To offer the best shopping experience Scandinavian Outdoor uses cookies. Use of cookies in Scandinavian Outdoor: Scandinavian Outdoor search, shopping cart, recommended products, etc. can use cookies. Without the use of cookies, we can't guarantee full operation or personalized shopping.
Liability
Despite careful monitoring, we do not assume any liability for the content of external links. Responsibility for the content of any links lies exclusively with the operators of the websites in question.
Scandinavian Outdoor reserve the right to change prices and technical specifications and will not be held responsible for text or printing errors. Due to technical limitations, product colors may differ slightly from the originals.
This website is owned and operated by:
Scandinavian Outdoor Oy
Privacy Policy
Last updated: 24th May 2018
We at Scandinavian Outdoor appreciate your privacy and understand our responsibility when collecting and storing data. We take data protection very seriously and we always use the best possible measures to take care of all of the data that we collect, receive or store. We also find it important to provide our customers with the opportunity to access their own data or to be completely forgotten.
You must agree to the terms of this Privacy Policy to use Scandinavian Outdoor's services.
Briefly, what kind of data is collected and stored?
We collect and store the following types of data:
Data provided by the user
Data stored from the use of Scandinavian Outdoor's web services
Data derived from analytics
All of these three types of data are explained in more detail in the section "What kind of data do we collect and store?"
Briefly, for what purposes is the data used?
For providing the service in a safe and user-friendly way
For providing product recommendations and improving marketing
For improving the webstore and customer service
For improving user experience
Read more from the section "What is my data used for?"
Data controller
Scandinavian Outdoor Oy,
Lukkosepänkatu 7, 20320, Turku, Finland.
Telephone number +358 (0)10 3970 550
Finnish company ID: Y-2066059-1
For questions or concerns regarding the data registry, please contact:
CEO, Ari Linkolehto, telephone number +358 (0)400 740 278
Data protection officer:
VP, Olli Lahdenkauppi, telephone number +358 (0)50 359 97 69
The name of the registry
Scandinavian Outdoor's customer register
What kind of data do we collect and store?
Data provided by the user
Name, username and password
Telephone number, email address and physical address
Billing information and payment information
Our nearest physical store location
Location data, used for localizing the service (default currency, default language, online store's delivery method)
Information of whether you're a member of Suomen Partiolaiset ry (The Guides and Scouts of Finland) and if yes, the member ID
Information of whether you're a member of Suomen Latu ry and if yes, the member ID
The email address and token required for Google or Facebook login
Product reviews
Marketing permissions and if agreed separately, customer survey permissions
Data stored from the use of Scandinavian Outdoor's web services
Shipping address and payment method
Shopping history: Ordered products, refunds and payments
Online store's browsing and usage data
Identification information of the device used
Online store session events, for example products added to the cart
Data derived from analytics
Product recommendations derived from browsing and shopping data, customer groups and interests
What is my data used for?
Personal data is used for the following:
Processing orders: Processing, receiving, shipping, archiving and accounting
Providing more interesting and personalized content and marketing
Improving customer experience and customer service
Facilitating and speeding up product returns
Maintaining customer relationship
Cookies and other tracking
When you visit the Scandinavian Outdoor online store, your web browser automatically receives a cookie. We use different kinds of cookies to provide our users with optimized and personalized service. We also use some third-party cookies to improve the functionality of our online service, improve user experience and optimize communication and marketing.
What is a cookie?
A cookie is a small text file that a web browser stores on a user's device. Cookies are used, for example, when an Internet site wants to retain the user's information when the user moves from one page to another. Use of cookies always requires user's consent. With a cookie, the Scandinavian Outdoor website can identify your visit and provide personalized information that is of interest to you. The cookies we store are only available to Scandinavian Outdoor's servers, and they do not include any of your personal data. The cookies we store collect user statistics so that we can personalize the content of our site and improve our service even further.
How long is the cookie valid?
The cookies stored on your device are valid for a maximum of 24 months starting from the date of each visit.
How do I avoid cookies?
You can find information about how to avoid cookies at http://www.networkadvertising.org/managing/opt_out.asp. However, some cookies are required for the smooth use of our online store, so we recommend that you allow cookies. If you need more information, please contact us by email at privacy@scandinavianoutdoor.fi.
You can find more information about cookies on Finnish Communications Regulatory Authority's web page at: https://www.viestintavirasto.fi/en/cybersecurity/informationsecurityguidelines/safeuseofservices/cookies.html.
Third-party cookies
Who can process my data and where is my data stored?
We adhere to good data protection practices when processing customer data. Access to data is monitored. As of May 25, 2018, the requirements of the EU General Data Protection Regulation have been taken into account in our operations and our operations are in line with these requirements.
The customer register data is stored in a system, which requires a username and a password to access it. The system is also protected by firewalls and other technical means. The data that is contained in the register stored in the system is only accessible by and eligible for use by certain, predefined and trained Scandinavian Outdoor employees. The data contained in the register is located in locked and secured premises.
In some cases, such as for storage, analytics or marketing, we need to transfer data to third parties. We have established strict contracts with all of our partners. The contracts take into account the requirements of the law and the EU General Data Protection Regulation. Our partners are under no circumstances authorized to use the data for their own purposes, or to share the data further.
How long do we store the data?
We will store the data for the time required to provide the services described in this Privacy Policy. Personal data from client accounts that are not active will be deleted no later than five years after the last activity. We might have to store some data longer than that, for example due to accounting obligations, if the law requires us. As our customer you can anonymize your client account, which means that all of your personal data will be deleted from your account and from your shopping history. After that you can no longer be identified and the account can not be recovered. You can do this by sending a message to: privacy@scandinavianoutdoor.fi.
How can I see and delete all of my data?
You are always entitled to see your own data and request the deletion of the data. Requests for correction, removal requests or any other requests or questions related to your customer data can be sent to us at privacy@scandinavianoutdoor.fi.
Correcting data
The data controller corrects, removes or supplements the personal data stored in the registry, either on its own initiative or at the customer's request, if the data is incorrect, unnecessary, incomplete or out of date for the purpose of its processing. The data subject must contact the data controller's Data Protection Officer to correct the data.
Will my data end up with third parties?
Only in cases when this is required, such as for payment transactions, deliveries or marketing. For example address and contact data is transmitted to parties such as Posti (Finnish postal agency), Matkahuolto (Finnish shipping agency) or DHL. Online store transactions are transmitted to a Finnish marketing and content platform Custobar, which we use for example for email marketing. Online store transactions from most countries are handled by the Swedish payment provider Klarna and the payment data passes via Klarna during the payment transaction. Online store transactions from Russia, Ukraine and China are handled by Finnish payment provider Maksuturva and the payment data passes via Maksuturva during the payment transaction.
These third parties are not permitted to use any data for their own purposes and are only provided with the data needed for the performance of the service. All the data is transmitted via encrypted connection.
This Privacy Policy will be updated as necessary
The world is changing rapidly and new regulations and operational opportunities are coming out at a quick pace. We at Scandinavian Outdoor are actively following these changes and we will update the Privacy Policy whenever needed. You can always find the latest update date at the top left of the Privacy Policy.
Thank you for reading our Privacy Policy. Do not hesitate to contact us if you have any questions about storing, processing or using the data. You can contact us at privacy@scandinavianoutdoor.fi.
#LifeOutdoors
Our Promise
We at Scandinavian Outdoor promise to provide you and everyone who enjoys outdoor life
a responsible selection of outdoor clothing and equipment, tested and selected by our experts.
Our competent staff will help you choose the right outdoor clothing and equipment.
For us, Outdoor is wellness,
the feeling of being outdoors and doing something you love.
For us, Outdoor is life outdoors.
It's the fresh air, exercise, and experiences.
It's about returning to our roots,
under the boundless sky.
For us, Outdoor is about stepping outside.
Some go Nordic Walking on a path; others go climbing up an ice canyon.
For us, Outdoor is choosing a path.
It's about travelling, going forwards, and experiencing new things.
The common thing is that they're outdoors, and provide the pleasure found in exercising.
It's about finding, and feeling yourself,
and maintaining your style at all times.
What will make you take your first step?
SCANDINAVIAN OUTDOOR
Life outdoors since 1970