---
For products we have in stock, delivery time is usually between 5 to 14 days after shipping.
Orders normally have a dispatch time of 1-3 working days.
Other delivery times estimations, such as 5-10 or 10-14 days, indicate the product is not in stock and will have a longer delivery time.
The dispatch time is the number of working days it will take for Scandinavian Outdoor to post the item after receiving your cleared payment. The dispatch time does not include the transit time - i.e. the number of working days the postal service will take to deliver the item to you.
Working days are normal weekdays. Dispatch times don't include Saturdays, Sundays and major Finnish holidays. (Transit times don't include major holidays and Sundays, but may include Saturdays, depending on the delivery service provider.)
If due to unforeseen circumstances we are unable to keep this delivery promise, we will contact you by phone or email.
We reserve the right to cancel a transaction if the item you have ordered is not available.
Delivery Methods
We ship normally using GLS's and Posti's (Finnish National Post Service) delivery methods. Posti's partner couriers and/or carriers may vary in different countries. DHL Express is also available as a faster shipping alternative for extra payment.
Delivery Costs
We offer fixed rates on delivery costs:
Delivery costs for GLS delivery are 7,90€.
With GLS the shipping prices are not dependent on physical size of delivery.
Free shipping for orders over 150 € delivered with GLS.
Posti: Shipping to Non-EU/all other countries: 25 €
Please note we cannot deliver products longer than 105 cm outside the European Union. Inside the European union products as long as 2.5 m are ok. Also be aware that products containing batteries cannot be delivered to countries outside of the European Union because of restrictions regarding batteries in airfreight.
VAT, taxes and duties
This store is based in Finland, therefore within the EU e-commerce. When you are browsing the store, please select the country to where your order is to be delivered. When you select country of delivery, Finnish VAT will automatically apply to any country within the EU. As well, Finnish VAT will automatically be deducted for any non-EU country.
The VAT-correction of prices applies automatically to every price in the store once you've selected "delivery country."
For most products the Finnish VAT is 24%. Exceptions: for food products 14% and for books 10%.
On all international orders, the recipient is responsible for payment of applicable duties, taxes, and other fees. Please contact your local Customs office for information on duties and taxes.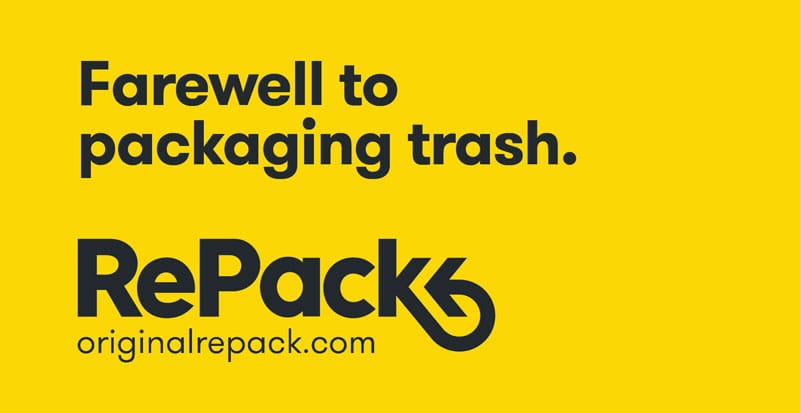 REPACK - ECOLOGICAL PACKAGING CHOICE
Deposit for the merchant, voucher for you!
We offer you RePack for free on any order over 149€!
Instead of a plain cardboard box or a paper bag, you can choose your order to be delivered in a RePack package. When ordering, choosing the Repack option adds an extra 3.50 € to your order (on orders below 149 euros) - when you send the empty RePack package back in the mail, you'll get a voucher for Scandinavian Outdoor or any Repack-using online store of your choosing!
How does it work?
Make an order in our webstore and choose RePack delivery
If your order has a value exceeding 149€, selecting RePack is free
If the goods you ordered turn out to be too large even for the largest RePack, and you've paid a deposit for RePack, we will instantly refund this directly back to you
Upon arrival, open the parcel and detach its address slip
Fold the RePack according to its instructions
Drop the RePack in a postal box
You'll receive an email with a link where you'll be able to choose which store you want your reward discount from - in some stores you get a certain percentage and in some stores a certain monetary value discount
The RePack will continue its sustainable career
The RePack package continues its ecological career!
---