Introducing the ecological shell jackets from Jack Wolfskin and Haglöfs!
#LifeOutdoors
Posted: 4/12/2018
Many outdoor brands have been putting an effort into ecological products. Same orientation continues also in this Spring and Summer. We visited our store in Helsinki and got acquainted with a few new interesting and ecological spring shell jackets!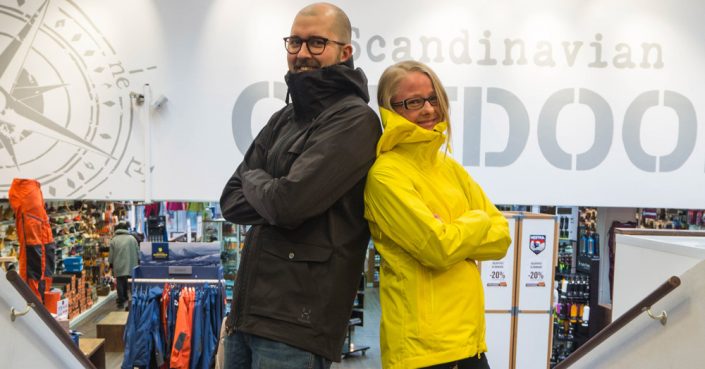 Jason and Sonja introduced the new arrivals of the Spring from us. In the photo Jason is wearing the 3-layer Haglöfs Eco Proof Shell Jacket and Sonja is wearing the Jack Wolfskin Sierra Pass Women's Shell Jacket.
With the outdoor experts Jason and Sonja from our Helsinki Forum store, we got acquainted with the Haglöf's environmentally friendly 3-layer Eco Proof Jacket and Jack Wolfskin's Sierra Trail Jacket (Men) and Sierra Pass Women's Jacket, where all the materials expect zippers are 100% recycled materials.
JACK WOLFSKIN SIERRA PASS SHELL JACKET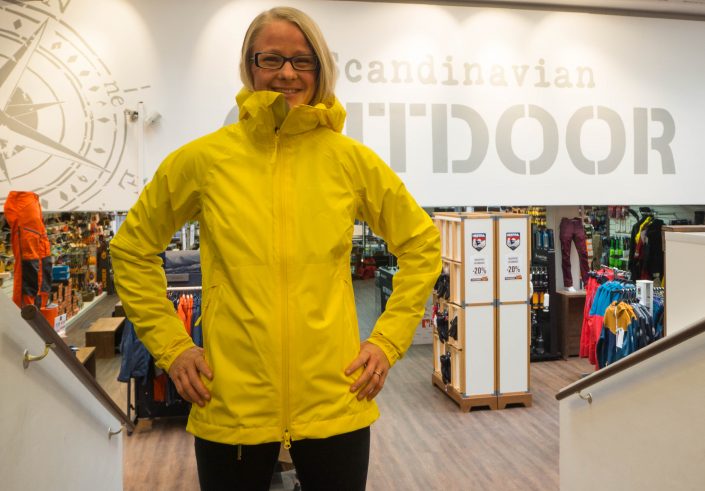 Sierra Pass Shell Jacket is the Jack Wolfskin's ecological arrival to this Spring! Jack Wolfskin is already known as a responsible and environmentally friendly brand. In this spring this legendary German outdoor brand stands at completely new level.
Everything else than the zippers are made from 100% recycled materials at the Sierra Pass Jacket that Sonja is wearing in the photo. So, with the men's Sierra Trail Shell Jacket, these two are the first Shell Jackets on the world made out from completely recycled materials! The most special thing is the Texapore Ecosphere 2L Shell that is also the first waterproof shell layer that is 100% made out of recycled materials.
When it comes to the quality and functions, there have been no compromises made despite the ecological manufacturing. Sierra Pass shell jacket (W) and Sierra Trail shell jacket (M) has both 20 000 mm hydrostatic head and the breathability of 15 000 g/m²/24h. Out from the outdoor business code language, this translates to a top-quality shell jacket!
Sonja's comments of the Jack Wolfskin Sierra Pass shell jacket:
"First observation was the soft surface material. When you put the jacket on, it doesn't feel like a shell jacket. The surface material feels much softer and smoother than traditional shell jacket materials.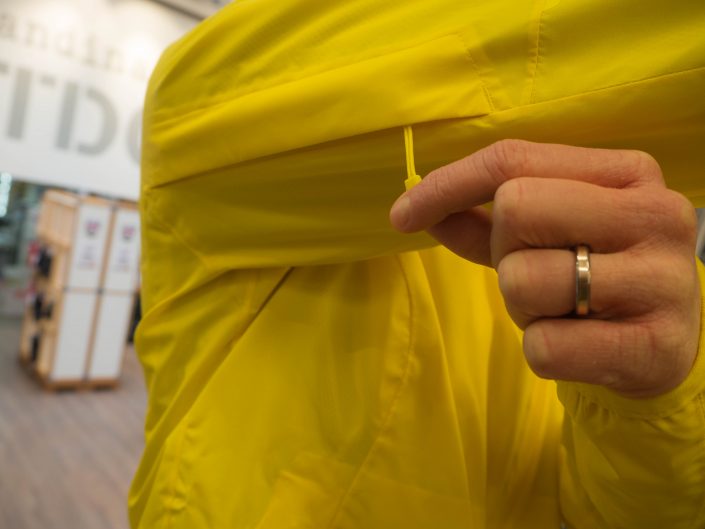 Ventilations, zippers in the sleeves are always handy and functional solutions.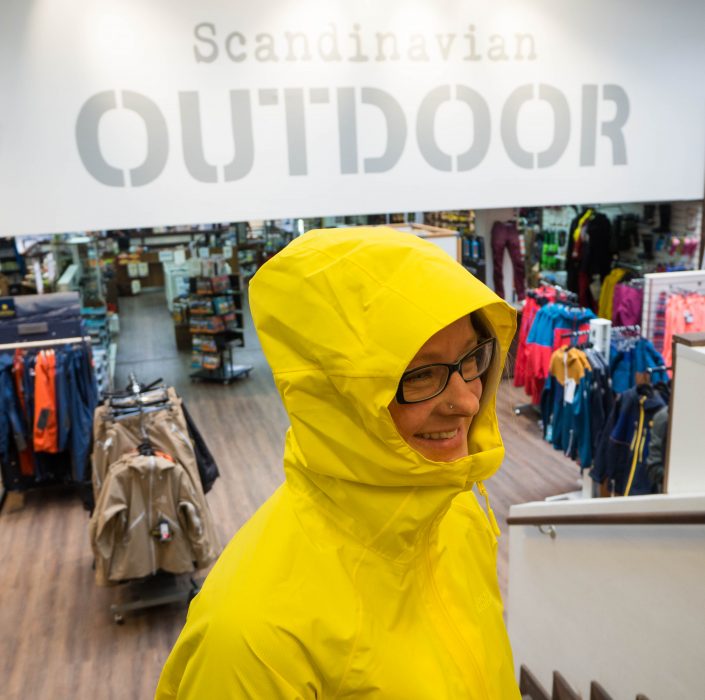 Well fitting hood gives a good cover from the rain and bad weather.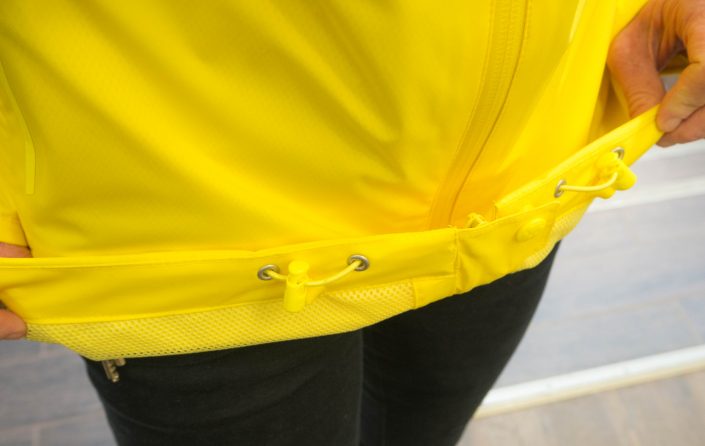 Tightening in the hem helps to fine-tune the fit. I want to also mention that I liked this unusual long hem design. 
This refreshing yellow color fits excellent to the start of the Spring season. Maybe the people who like more restrained colors the choice would be red colored version. Tightenings at the end of the sleeves fit well and the collar is pleasantly high. I was also surprised with the light weight of the jacket. I think it will suit also nice for traveling jacket because you can pack it to a really small space. The jacket can be packed to its own pocket."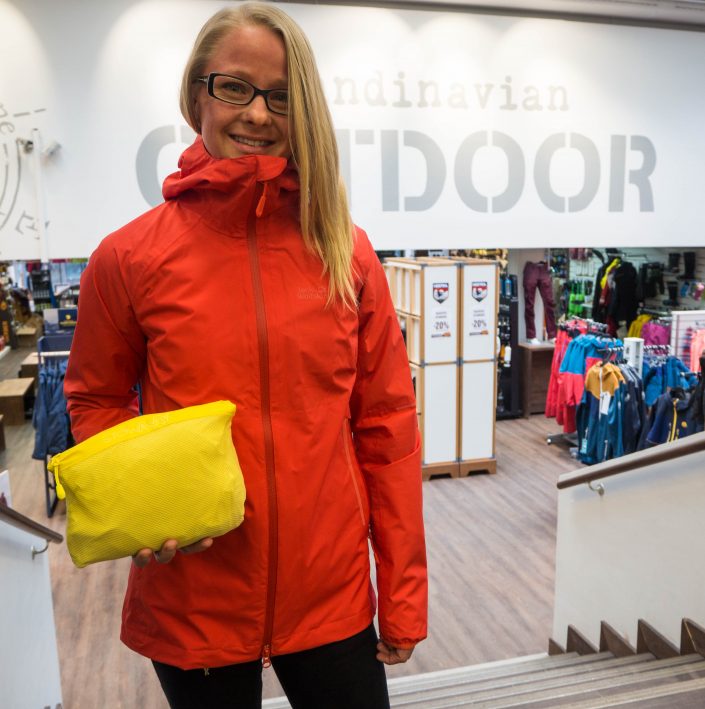 A red version of the Jack Wolfskin Sierra Pass shell jacket and a yellow one packed to its own pocket.
JACK WOLFSKIN SIERRA TRAIL SHELL JACKET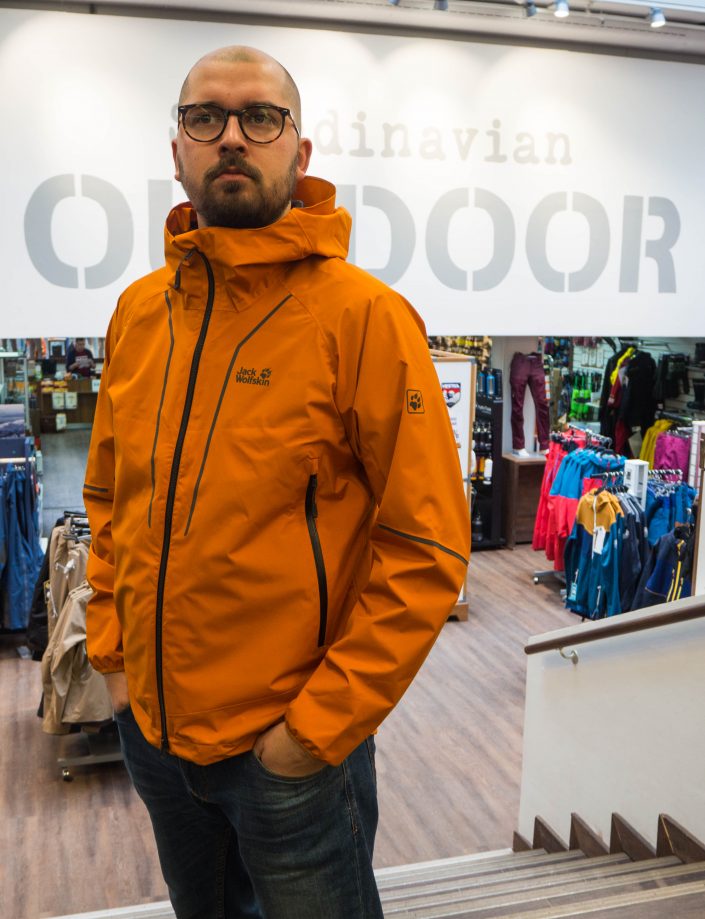 Jason is dreaming of springlike hiking trips! Jason is 183cm tall and the jacket is size M.
Jason's comments of the Jack Wolfskin's Sierra Trail Shell Jacket: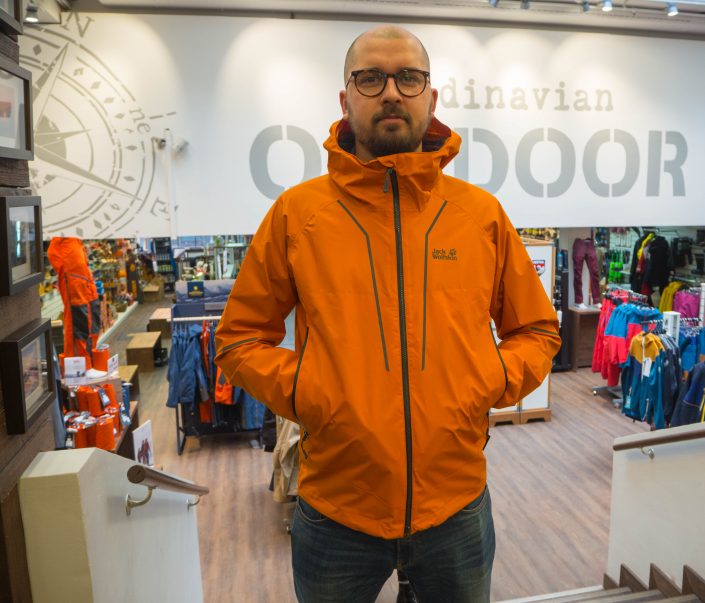 "Sonja already pointed out good features from the similar women model but I would add a few observations. Seams seem to be high quality and the pockets are designed really compact. There aren't many pockets, but both "side pockets" are spacious. You can put small items in the pockets when you are hiking or you can just keep your hands in warm place. A little bit "burned" orange color is stylish and distinct but not too flashy.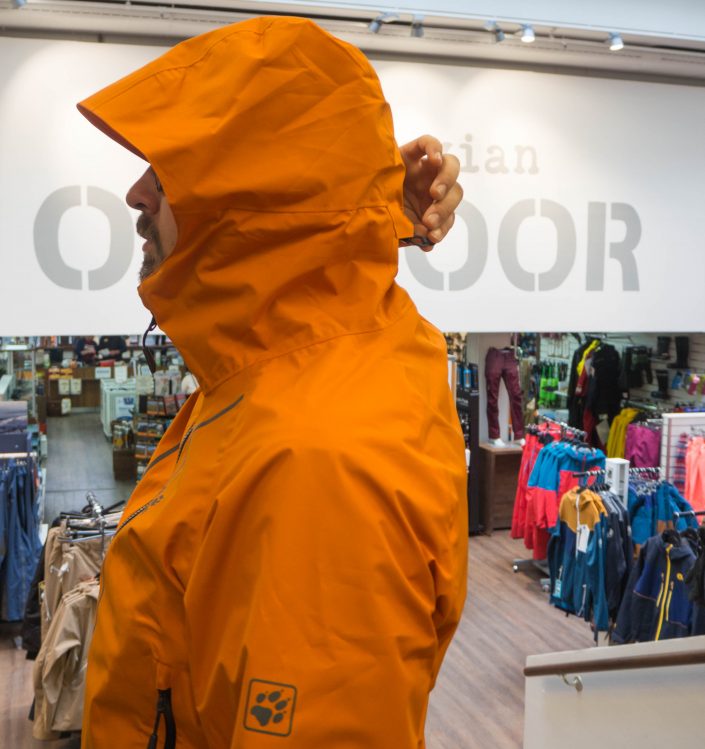 I give points from the well-covering hood and its adjustments. As Sonja said, the high collar is a beneficial feature in the jacket, because it protects the sensitive parts of the body from the weather circumstances."
HAGLÖFS ECO PROOF 3-LAYER SHELL JACKET (W/M)
Swedish brand Haglöfs brings their effort for ecologically manufactured products by introducing Eco Proof 3-layer Shell Jackets. There are own versions for both women and men. Both jackets are made of Bluedesing -certificated Proof Eco-fabric. The material is made from 52% recycled polyester and 48% polyester.
Easy button and zipper convertibility are increasing the ecology and the lifespan of the 3-layer Eco Proof shell jacket. Changing the zipper is a challenging operation with the most of Shell Jackets, but with the Haglöfs Eco Proof 3-layer Shell Jacket zipper changing is easier.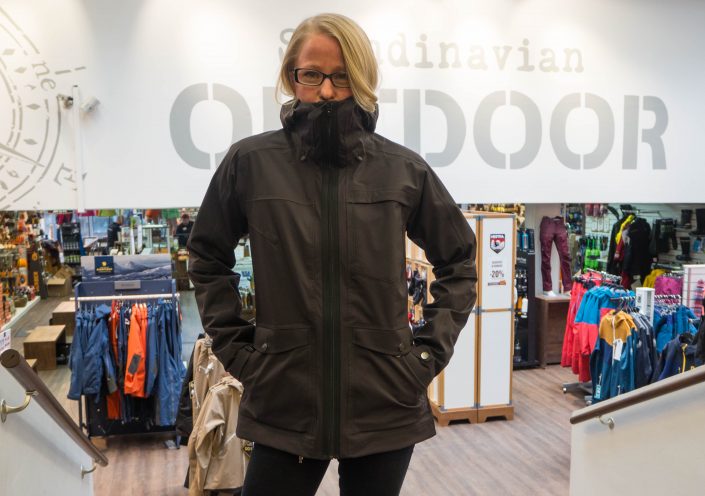 Sonja is 160cm tall and the Haglöfs Eco Proof 3-layer shell jacket is size S.
Sonja's comments from the Haglöfs Eco Proof 3-layer shell jacket:
"Surface material doesn't make a rustling noise, it has a pleasant touch of matt. The collar of the Haglöfs jacket rises high enough and protects nicely. This jacket seems to be a valid choice if you are looking for a stylish and timeless jacket to use in the city life and hiking trips. The design of the pockets is practical. You can put your hands in the side pockets and on the other side of the two-sided pocket has room for gears, sealed with a snap fastener.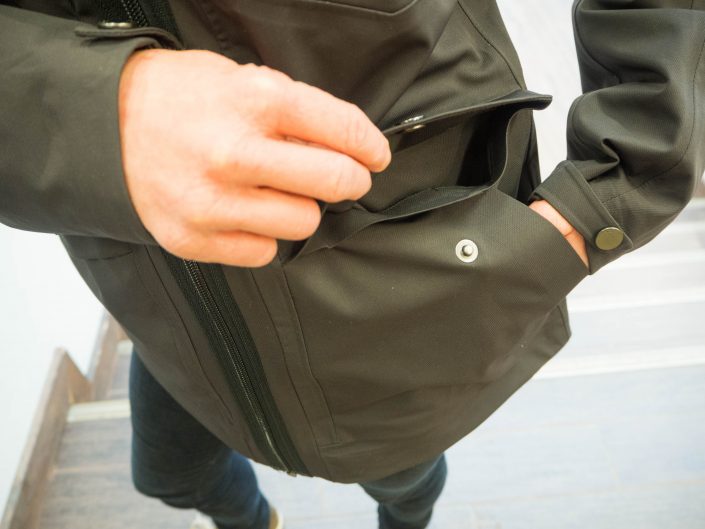 The two-sided pocket is a practical and stylish solution.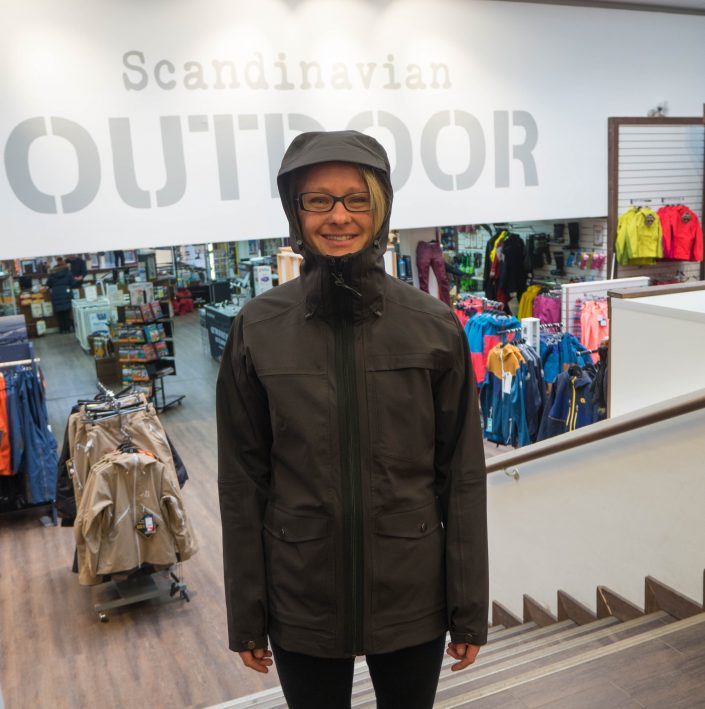 This jacket has also protecting collar and hood which make outdoor life more pleasant!"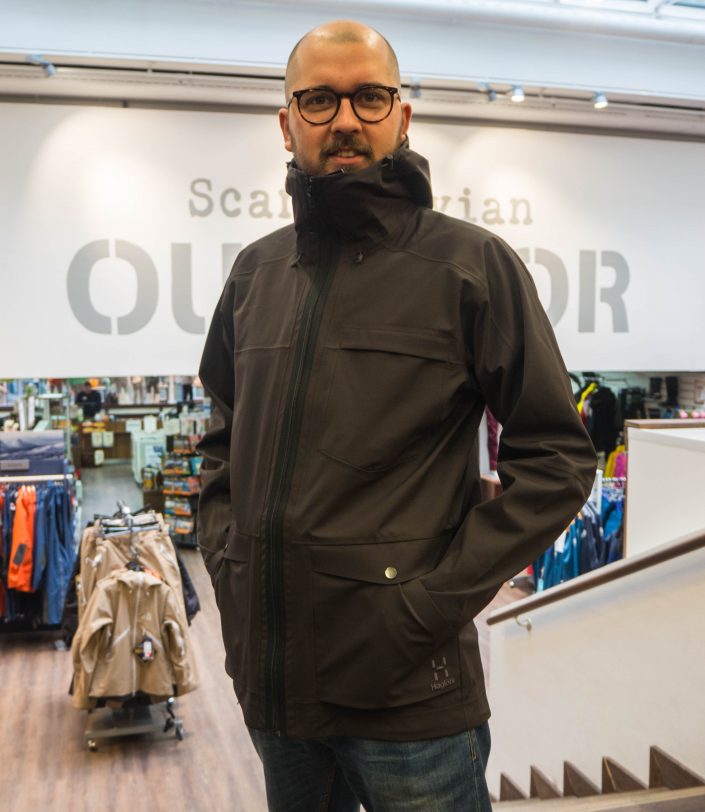 Jason is 183cm tall and the jacket is size L.
Jason's comments of the Haglöfs Eco Proof 3-layer shell jacket:
"This is definitely really vigorous jacket! Despite the vigorous materials, it doesn't feel stiff and fit is great with a plentiful leeway. This jacket blends into urban city life and it's suitable for everyday use. With these features, it's actually a thoroughbred outdoor jacket.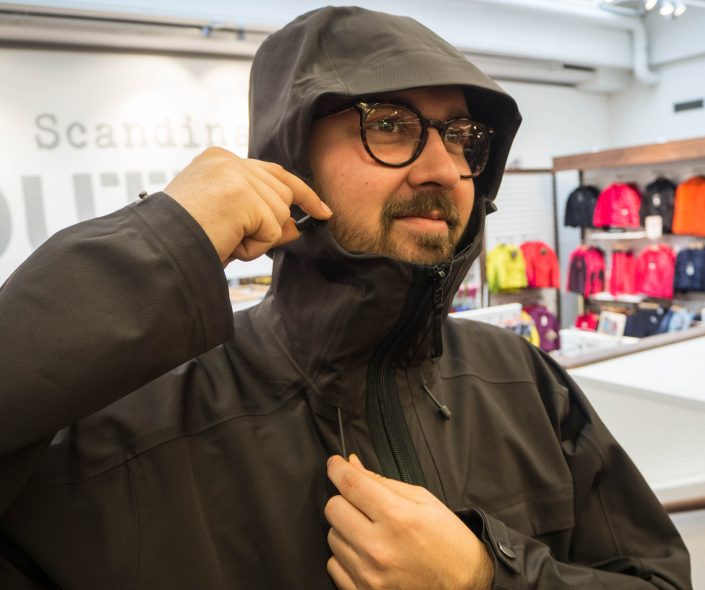 With adjusting these two strings it's really easy to make the hood a perfect fit.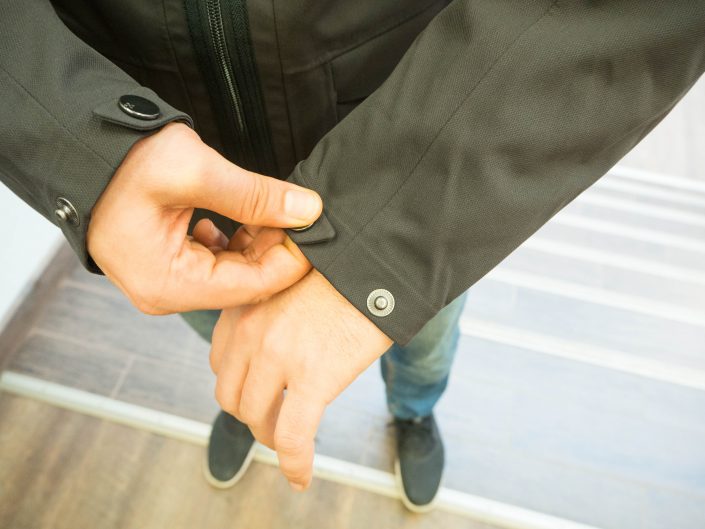 Snap fasteners in the sleeves are stylish and practical.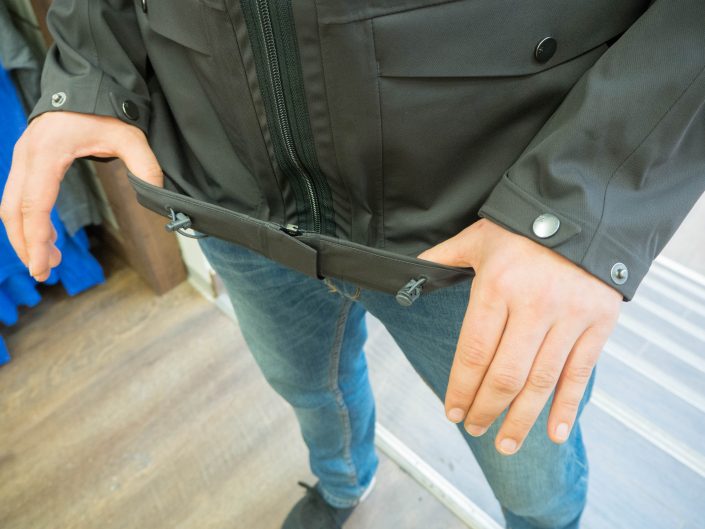 Double adjustments in the hem provide a great fit. In this photo, you can also see the easily convertible zipper if you need to change it after many years of use. 
Thanks, Jason and Sonja for your comments — you can get to know our whole jacket selection by clicking this!
We wish you joyful spring days!
Best regards
The Scandinavian Outdoor crew